Cuban Cauliflower Rice and Beans is a hearty vegan dish with lots of bold flavor. It is so healthy and can be ready in under 20 minutes!
I am a huge fan of cauliflower and love recipes where it is turned into rice. It takes on whatever seasonings you give it and it's a great low carb side dish. In this recipe, we add beans to make it a really hearty side dish or a vegan main dish perfect for lunch or dinner.
How do you make Cauliflower Rice?
To make it, you can put a head of cauliflower in a food processor so that it gets finely chopped. The step-by-step process is a fairly easy one. It can also be bought in a bag in your grocery store's produce section or you can get a frozen bag in the frozen vegetable aisle. I prefer the frozen because it is easy for me to keep a few bags in my freezer to use whenever I might need it.
What type of beans should I use?
Since this is a quick and easy recipe, I like to use canned beans. My favorite type for this rice and beans recipe are red kidney beans. But if you like pinto or black beans, go right ahead and use them. I usually save my black beans for this Black Bean Soup Recipe.
I always drain my canned beans to lessen the sodium and give the recipe a fresher taste.
What seasoning is used in this recipe?
I used store bought Cuban seasoning in this recipe. Adobo seasoning is very similar and can be found at most grocery stores. It is a mix of garlic, onion, oregano, salt and pepper. Here is a Homemade Cuban Seasoning recipe where you can also make your own if you desire.
Here are some brands that I use and love:
Chef Walter J's Cuban Spice Rub
McCormick Adobo Seasoning with Pepper
Simply Organic Adobo Seasoning
What should you serve Cuban Cauliflower Rice and Beans with?
This rice and beans recipe goes well with chicken, beef, pork or fish. I love serving it on the side with Cuban Roasted Chicken because the flavors of both go well together. If you are looking for a meatless meal, it goes great with Easy Tuna Cakes.
If you would like to make a vegan or vegetarian meal, this could serve as a main course and you could serve a salad such as this Apple Walnut Salad Recipe or  some Easy Roasted Brussels Sprouts.
I always make a big batch of this recipe because it is really good for lunch. It can either be heated in the microwave or turned into a salad by adding a bit of your favorite vinaigrette dressing.
Try making this wonderful vegan dish! I am sure you will not even miss the meat!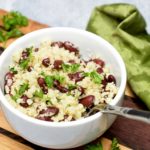 Print
Cuban Cauliflower Rice and Beans
Cuban Cauliflower Rice & Beans is a quick vegan recipe that can be served as a side dish or main course.
Ingredients
2

tablespoons

olive oil

2

cloves

garlic, minced

12

ounces

Riced Cauliflower (about 3 cups)

2

teaspoons

Cuban or Adobo Seasoning

1

can-14 ounces

red kidney beans, rinsed and drained

3

Tablespoons

fresh chopped cilantro

salt and pepper, to taste
Instructions
In a large skillet, heat olive oil over medium-high heat. Add the garlic and riced cauliflower to the skillet and sauté for 5 minutes, stirring occasionally.

Add the seasoning and beans. Sauté for 5 more minutes, stirring occasionally.

Stir in the cilantro and finish cooking to desired tenderness.

Season with salt and pepper before serving.
Notes
Parsley can be substituted for cilantro if you desire.