Enjoy canned tuna or have a lot of it on-hand? Change it up and learn how to make warm and satisfying Tuna Cakes recipe which are rather similar to crab cakes and the best part? They are quick and easy!
Tuna Cakes Recipe
Elevate your canned tuna game and try making these easy Tuna Cakes.  Enjoy them alone with tartar sauce or aioli, atop a salad, on a bed of arugula (my favorite way), or as a sandwich. You most likely have the ingredients on-hand to make this recipe and you can have it on the table in 20 minutes or less.
Ingredients
 solid white tuna fish-
1 large egg yolk
scallions sliced thin
 shredded onion
 fresh chopped parsley (or 1 teaspoon dried)
A bit of lemon zest fresh lemon juice
 mayonnaise
1/2 cup (or more fresh breadcrumbs)
Black pepper to taste however don't be shy
Pinch or two of salt
Olive or grapeseed oil for frying
Optional add-ins:
2 TBS chopped jalapeno for heat or (green or red peppers)
3 TBS celery chopped small
A couple of dashes of cayenne (red) pepper for heat
Tips for Success When Making Tuna Patties / Cakes
You can use any type of tuna fish for this however the best for taste and texture, in my opinion, is solid white tuna packed in water.
Be sure to drain your tuna well.
 You can also use freshly cooked tuna for this, just flake the tuna from the cooked steak you want the texture to be similar to a crab cake when yo do this. You may need to add a second yolk as a binder.
Use a non-stick pan to cook these.
Heat the pan over med-high heat, once the pan is hot add just enough oil to glaze the bottom of the pan, allow the oil to heat (not smoke) and add cakes.
Serve these with tartar sauce, a simple lemon, and herb aioli or a vinaigrette like a lemon vinaigrette or even Greek salad dressing.
Enjoy!!
We love any comments or questions, please feel free to leave them below!
Keep up to date with recipes by following me on:
  FACEBOOK  INSTAGRAM, PINTEREST, TWITTER
Enjoy the recipe, be sure to leave a 5-star rating below.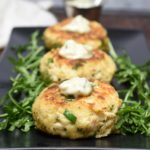 Print
Easy Tuna Cakes
Make a nice dinner using a simple can of tuna fish. This easy recipe for Tuna Cakes can be made in 20 minutes or less I good alone, atop a salad or as a sandwich on a soft roll..
Ingredients
10

ounce

tuna fish

one large can or two small

2

large egg yolk

or two smaller yolks

2

TBS

sliced scallions

TBS

shredded onion

2

TBS

chopped fresh parsley

1/2

cup

mayo

1/2

teaspoon

fresh lemon juice

1/2

cup

fresh breadcrumbs

more if needed

Salt & black pepper to taste

olive oil for frying
Instructions
Drain tuna, be sure to get as much liquid from the tuna as you can.

Combine all ingredients except oil in a mixing bowl and using your hands combine mixture and then form into 5-6 patties.

Heat a non-stick pan or skillet, add oil. Once oil is hot (but not smoking) gently add tuna cakes. Do not crowd them (depending on the size of your pan, you may need to cook in batches). Cook cakes until browned and crisp, flip gently and repeat.
Notes
Note 1: I use fresh breadcrumbs for this recipe (from French bread) however you can substitute dry breadcrumbs or panko.
Recipe Variations: Feel free to add in minced jalepenos for heat or green or red peppers for color and texture. You can opt to add in minced celery for texture as well.
Meal Prep: You can make these ahead of time, and store in an airtight container or in wrap in the fridge. Just keep in mind that when you go to cook them they will now be being cooked cold, so you may need a little lower hear and an additional few minutes of cooking time to warm them through.
We are not registered dieticians, we do our best to provide the most accurate nutritional values. Any nutritional data we provide is an approximation. Actual dietary information can vary based on ingredients and portion sizes
Nutrition